Jo-Vek Tool & Die MFG

Custom Tooling Solutions
Your Manufacturing Company for all custom tooling & metal stamping needs
At Jo-Vek we partner with you from product inception through production. Together, we develop a cost-effective, specialty manufactured die that produces quality parts in low or high volume. Our entire process is customized to your needs, as we engage with you to develop a tool design that can manufacture product efficiently, while ensuring high quality and functionality.
Expert Jo-Vek tool makers build custom tools made specifically for each product.
To ensure the longevity of your tool for years to come, Jo-Vek takes care of preventative maintenance in-house, guaranteeing exceptional durability and performance. Our production and assembly lines can handle hundreds or millions of parts depending on your requirements. With our exceptional communication we'll keep you updated every step of the way.
We Engineer Custom CNC Precision Tooling To Your Exact Specifications.
Jo-Vek machinists possess extensive knowledge and decades of experience, enabling us to deliver exceptional custom stamping dies. Our expertise extends to building custom dies for your desired product. We are proficient in crafting tools tailored to various applications.
At Jo-Vek, we excel in creating custom tooling for diverse sectors. Our custom tools are versatile and can be designed to work with a wide array of material options, including steel, bronze, copper, stainless steel, and aluminum alloys.
Custom Metal Stampings Based On Your Product Requirements
Whether your requirements involve millions of tiny metal eyelets or hundreds of large components, Jo-Vek engineers and machinists are adept at designing and building the precise tool needed for your product. With CNC machining and Wire EDM technology, we custom design and build high quality progressive stamping dies. The dies are carefully built in house to your expressed specifications, guaranteeing the production of a high-quality product.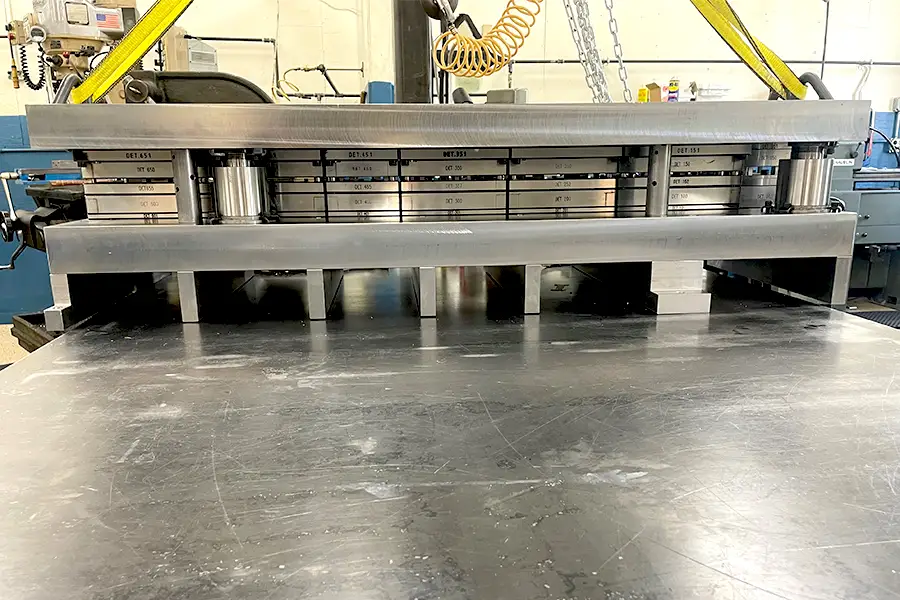 Product fabrication & manufacturing processes customized to your needs.
Our cutting-edge, CAD software allows us to design and fabricate both single-out and multi-out tooling and dies. We can even design and build duplicates or triplicates of the same custom tool to increase production capacity.
Contact Jo-Vek Today With Your Custom Tooling Request